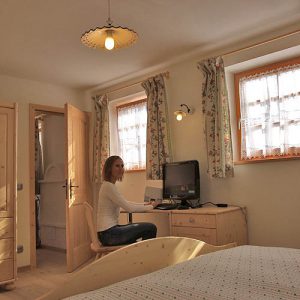 On winter nights, when the white snow has covered the valley, the trees and the houses, you can look out of the door and up towards the peak of Cima Dodici, which stands just in front of the apartment, where you will be enthralled by the spectacular sight of the starry skies and just above, the unmistakable figure of the Orion constellation. Inside the apartment, you will be enveloped in the magical atmosphere of a lovely snug room covered in wood.  The floors are in larch wood, just like in the traditional old houses here, and the dining area and kitchen are also covered in wood.
Modern domestic appliances are not lacking though; the apartment has a fridge, freezer, ceramic hob, electric oven, dishwasher and other facilities to make your stay as easy as possible.
A sofa bed and next-generation TV complete the room.  The next room is the bedroom, which also has a larch floor and fir wood furniture.  A desk with computer connected to the internet means you can straightaway write to your friends about your fantastic days out in the valley.
There is an en suite bathroom with shower and washing machine and a second bathroom off the snug room.  The apartment is ideal for 2 people but the comfortable sofa bed means it can sleep up to 4.